The following text is extracted from "The Cambridge Companion to Brass Instruments"
Edited by Trevor Herbert
The Open University, Milton Keynes, 1997
John Wallace
(ISBN-13: 9780521565226 | ISBN-10: 0521565227)
Reproduced here with the permission of Cambridge University Press.
Sound production (page 199)
On all brass instrument, the lips, held under tension within the circle of the mouthpiece rim, begin to vibrate when turbulence occurs in the air passing steadily between them. If the muscle tone of the lips and the rate of airflow are kept constant, then the excitation of the edges of the lips cause by their contact with the moving air sets up standing-wave oscillations within the instrument. This vibration of the air sets the lips vibrating in sympathy, and in turn affects the exact way the air vibrates as it passes between them. This interplay between vibrating lips and air controls the complex shape of the sound wave-form, and helps give each player his/her unique sound.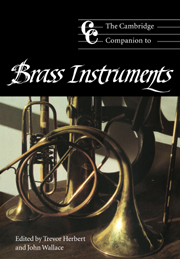 Sep 21, 1997 | Categories: hornplaying, hornteaching, publications | Tags: brass instruments, lips, mouthpiece, sound, vibration | 1 Comment »
---